Website Design vs Website Development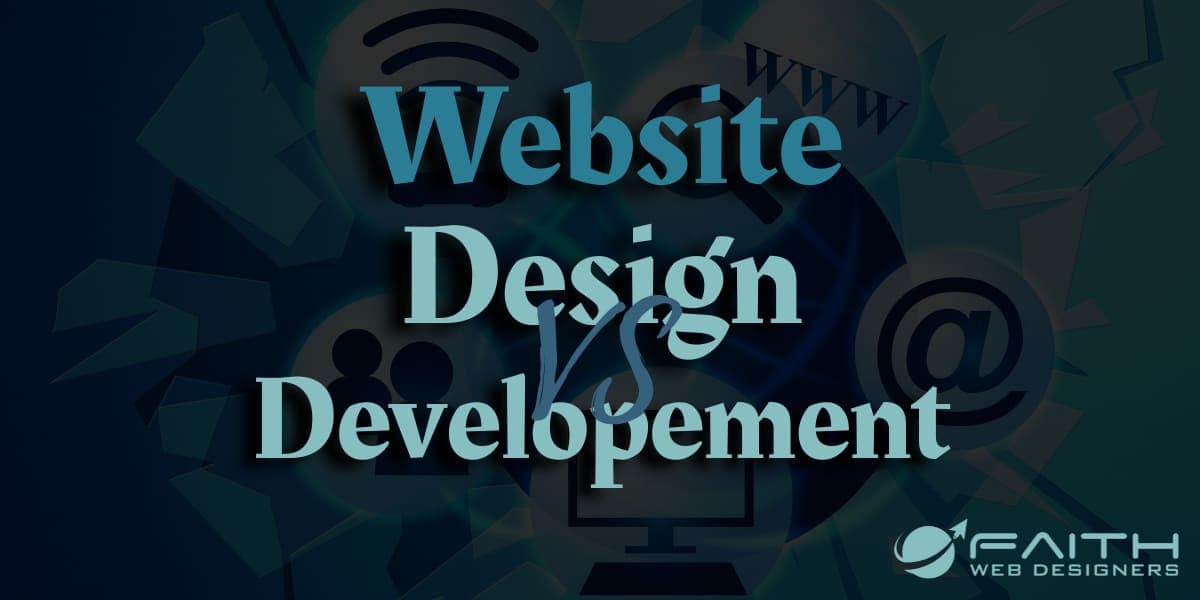 Website Design vs Website Development: What's The Difference?
Website design vs website development, two occupancies that appear to intertwine but actually have separate job descriptions. People tend to merge the two together, which can cause confusion and misinterpretation. In this post, we broke down the function and responsibilities of each role so you can determine what services your site needs at a specific point in time. Without further introduction, let's get started!
Website Design vs Website Development – Roles Explained
The difference between website design and website development is often simplified to execution. A web designer is considered the visionary behind the project. He or she carries the task of designing the layout, usability, and visual appearance of a website while maintaining its core structure. Successful web designers must be on their "A" game at all times, possessing a multitude of graphic, creative, and technical skills. Meanwhile, not to be outdone, a web developer converts the web design into an optimized website, expertly applying coding languages such as JavaScript, PHP, HTML, and CSS. Together, they work hand-in-hand to ensure your website is seamless, aesthetically pleasing, and in tip-top shape.
Web Designers – The Visualizers and Innovators
Web designers are all about layout and visuals. They focus on your brand imagery, color schemes, fonts, etc. to make sure your web pages are eye-catching and stunning. Visual cohesion is a must, with many even devising a website design style guide to guarantee that each website associated with your business is consistent. Extending beyond captivating aesthetics, web designers also zero in on usability, creating a user-friendly interface to encourage page visitors to explore for as long as possible. Studies show that 38% of visitors will stop engaging with a website if the content or layout is unattractive. Meanwhile, 48% of people cited that a website's design is the No. 1 factor in determining a business's credibility.
Besides general framework and layout structure, web designers also consider and construct conversion-generating graphic elements, crafting interactive and multifunctional web pages that effortlessly translate across various devices. Web design involves extensive research and testing, with web designers staying updated on the latest web design trends to adhere to certain standards and practices. Serious contemplation goes into the design's functionality. Web designers often compile the site structure and mockup to meet client specifications and user expectations, ascertaining how their design affects the coding of the website. 
Other resources and materials that web designers conceptualize, administer and spearhead are:
Website briefs – Documents that outline the web design process, requirements, and timelines, providing both parties with a clear set of expectations regarding project workflow, deliverables, and post launch services.
Web design contracts - Social paperwork that details a legally binding and enforceable agreement between a designer and his or her client, therefore defining their business relationship and the scope of the project.
Website design questionnaires - A list of questions the web designer or agency provides to a potential client to better gauge their business and design prerequisites before commencing website construction.
Website proposals – Written agreements between a web designer and prospective clients, clarifying the needs of the client, the service(s) or product(s) the contractor will offer, and the price quote of the service.
After the web designer completes the project or service and hands over the site, there will be celebratory handshakes and high-fives, however, that shouldn't relegate your working relationship to a one-and-done project. Commonly, web designers offer post-launch services to keep your content fresh and consistent while maintaining your site. Post-launch services include training, content creation, and round-the-clock maintenance.
Web designers create human-centric designs that are based on analyzing data and trends, while prioritizing interactions and conversions. Their final design choices are determined by ensuring the interface is alluring and easy to use. They harness the skills and aptitude to create fantastic, finished projects. Some of these skills include:
Branding, color theory and typography
Design tools and software
Interpreting the Principles of Web Design and website accessibility
HTML and CSS knowledge
Responsive and interactive design - 73.1% of web designers believe that a non-responsive design is a top reason why visitors leave a website.
Conversion Rate Optimization (CRO)
Wireframing and prototyping
Strong communication
Ability to collaborate with others on the team
Web Developers – The Builders and Pillars
Now that we've tackled the obligations and duties of web designers, we're ready to give some insight into a web developer's primary job. Web design represents the gorgeous interface and graphics of your site while web development is its foundation. Web developers lend and uphold the core structure of your website, fortifying it through complex coding and advanced programming languages. They map out the blueprint and essence of your website, transforming ideas and concepts suggested by designers into a concrete, live, and fully functioning website.
In a nutshell, the design is car schematics, and the development is engine and compartments. Web developers are directly responsible for coding and configuring the servers and databases on the back end, along with incorporating user-facing features and functionality. They're involved in making sure your website is a solidified powerhouse, coordinating testing and debugging post launch. On top of those formidable superpowers, web developers are also the protectors and support system, providing ongoing upkeep and maintenance by amending server or hosting issues. Another analogy to illustrate the importance of web developers is comparing them to a construction company that's building a new house. The web developer reads and implements the design plans drafted by the architect (the web designer) and lays the foundation to set forth a sound structure.
Specifically, you have your different types of web developers based on their programming languages and the type of development work they perform. The three major kinds include:
Front-End Web Developers – Just like its name, front-end developers code the actual website. There's a fair share of overlap with web design since this is also considered client-side development, where developers code and program the visual aspects of the website that users will see.
Back-End Web Developers – When the stage production is on full display, this crew is behind the curtain, coding the database and server and using advanced programming to make sure the framework is on point. Commonly coined as server-side development, back-end developers oversee tasks that surpass the visitor's view.
Full-Stack Developers – These developers are jacks of all trades, coding both the front and back ends of a website, their knowledge base encompasses the full extent of site configuration, understanding how these parts work in conjunction to one another.
In order for a website's functionality to run quickly and smoothly, web developers need to have a vast array of technical and soft skills, especially in this market (for instance, 47% of people expect a web page to load in two seconds or less). Web developers need to be knowledgeable in:
Testing and debugging
Coding and programming
Back ends and databases
Content management systems
Search Engine Optimization (SEO)
Problem-solving and analytical thinking
Solid communication and collaboration skills
Web developers forge and leverage instrumental solutions, using a handful of tools and platforms to sustain and guard the health and stability of your website for a long time.
Website Design vs. Website Development – Different Tasks, One Team
We hope you gained a better understanding of the key differences between website design and website development. As a wrap up, remember the major distinctions. Designers imagine the look and feel of a website, concentrating on appearance and usability while developers focus on functionality and structure. Web developers are more technically savvy, deciphering complex coding and language applications while web designers are more visual and graphically oriented. Furthermore, web developers determine whether the website concept is financially and technically plausible before coding and programming the site. Both website designers and website developers play critical roles in building, contracting, and maintaining a quality website. They're unique parts of a whole and depend on one another to deliver an engaging website. If you need a dynamic website with beautiful graphic finishes and up-to-date functionality, please visit our website at faithwebdesigners.com and get in touch. We proudly offer website design and website development services!