10 Essential Pointers On Why SEO Is Important For Your Business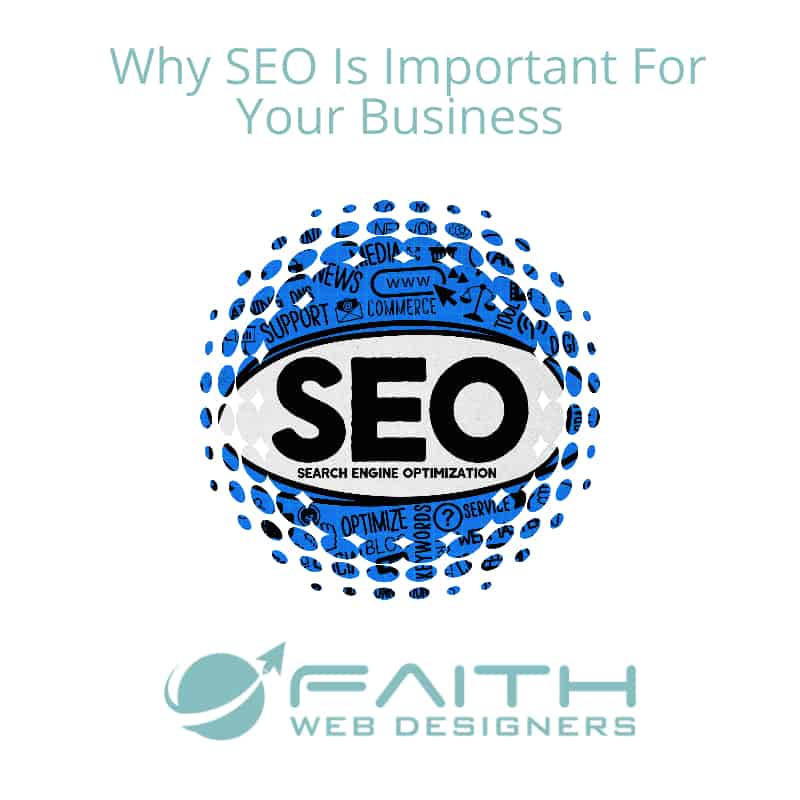 Why is SEO important for your business? In the midst of the digital shift, you've probably heard and read a million times that SEO is a vital and cost-effective virtual marketing tool; it's a game-changer that increases a website's overall searchability and visibility.
But do you truly know why SEO is important for your website? Besides attracting more eyes and traffic to your website, SEO helps in converting prospects into customers, amplifying brand awareness, fostering engagement, building relationships with potential buyers, offering a competitive advantage, and positioning yourself as a trustworthy and leading voice within your industry.
Regardless of what field you're in or your business's size, here are the top 10 benefits and reasons why SEO is an absolute MUST for taking your brand to new heights.
Why is SEO important for your business? Most importantly, what does SEO even mean?
People often ask, how does SEO work? We have the answers. Before we delve into the many ways in which SEO improves your business, we must first define it. Search Engine Optimization (SEO) is composed of strategic practices that are constructed by combining SEO elements with a data-driven approach. The better your website is on the front and back end, the more traffic you'll get, and the more search engines will prominently prop up your business's search rankings. Some data-backed factors that strengthen your SEO include:
Keyword analysis – As the saying goes, a picture is worth 1,000 words and words are powerful. Certain words have the ability to control your online rankings. Keywords are single words or phrases that people frequently use to find what they're looking for. They require diligent research and need to be strategically placed in your content to spice it up and ensure that the quality is impeccable, while still utilizing words that are searched often. Prospective customers will use particular words or phrases to find the products or services they're looking for, if your content contains those appropriate words or phrases, your visibility and digital impact increase.
Backlink building – These crucial links are components of your website that redirect back to other credible, high-quality websites. They indicate that you're citing sources that are relevant to your area of expertise while keeping up with industry trends. Like keywords, backlinking should also be done strategically so your original content doesn't get buried by a million sources.
Content creation – Content drives SEO, allowing you to communicate directly to your audience, thus bringing in traffic. Think of your words as the vocal piece that connects the relatability, consistency, brand authority, trust, and engagement of your business with the analytics necessary to optimize your digital footprint. Content fully encompasses and expresses to the audience who you are and what you offer. Some forms of content include:
Webpage text/forms
Infographics
Social media posts
Videos
Podcasts
Newsletters
Now that we've defined Search Engine Optimization and its significance, let's get into some SEO tips and discuss all the amazing things it can do for your business!
1. SEO Solidifies Trust & Credibility
This point seems like an obvious one, but we cannot stress this enough. Trust and credibility are a valuable asset of any brand or business, and the primary goal of any experienced SEO. However, these two components don't just occur overnight, similar to brick-and-mortar businesses or relationships in real-life, trust and credibility don't have a time limit. Establishing your brand as an authority figure requires patience, effort, and commitment that centers around offering amazing, high-quality products or services that give consumers an opportunity to slowly trust your brand. Essentially, authority is earned and amassed over time, and means that your website is trustworthy, relevant, and has something to offer. Many digital elements go into increasing your authoritative presence in the Google search engine, such as:
Creating a captivating website with the right digital optimizations and a clean, effective interface will ensure that your business is easily discoverable in search, while helping you garner brand trust, credibility, and authority.
2. Organic Search Ranks As The #1 Source Of Website Traffic
Organic search is a major aspect of most businesses' website performance and a critical part of the buyer funnel. It's one of the deciding factors in getting users from Point A to Point B in terms of lead generation and sales. From a digital marketing standpoint, Google dominates the search realm, outpacing competitors like Bing, Yahoo, and several others by a landslide. This is not discrediting other search engines, but Google dominates a significantly larger portion of the search market and is the most visited website worldwide, serving as an email provider to more than 1 billion users, ultimately making it a fan favorite.
That being said, there's a clear-cut majority of the globe surfing through Google at least once a day to get the latest scoop, which is why being a highly visible and trusted source to the tech giant and other search engines will always result in additional points in your brand's favor. Consider this, the number one search result in Google gets 27.6% of all the clicks. The higher you rank on a search engine result page (SERP), the more likely leads will click through to your site, so it's key to raise your organic page ranking. The better your SEO efforts, the higher your visibility, which is especially imperative when you note that 75% of web users never click past the first SERP. Gaining organic traffic as opposed to pay-per-click marketing is the ultimate goal because most people recognize when SERP results are ads, and when they're organic. Quality SEO and a well-designed, smoothly functioning website will help brands skyrocket to the next level.
3. Great SEO = Better User Experience
People want to find what they're looking for FAST, this means going through fewer clicks quickly and easily. Everyone desires improved organic rankings, maximum visibility, and higher conversion rates, but don't understand that a positive user experience is one of the bigger steps in getting there. Customers already know what they want, and having difficulty finding it will cause problems, an unfavorable site visit, and less than stellar website performances. You want to concentrate on generating excellent content and on-page SEO optimization, this means optimizing the web page content for search engines and users, such as content, title tags, internal links and URLs. Don't sleep on off-page SEO either, this technique focuses on optimizing material outside of your website in the form of guest posting, link building, and social media marketing to improve your site's organic rankings.
One example of enhancing user interactions is taking the necessary steps to make your site responsive, therefore making it usable for all your mobile visitors, as well as those who are visiting your site from a desktop or laptop. Similarly, by increasing your page load speed, you can drastically reduce your bounce rate and entice visitors to remain on your site longer. Consumers expect a page to load in a pinch, in fact, 47% of consumers expect a web page to load in two seconds or less! The longer the load time, the faster people bounce and the lower your conversions.
4. SEO Embodies The Voice Of The Consumer
No matter what format it's in – spoken or word – SEO clearly signals user intent and behavior, from understanding macro market trends and shifts to interpreting consumer intent in minute detail.
SEO deciphers customers' wants and needs through:
Target keywords rather than demographics, while many digital marketing campaigns and gurus advocate for you to focus on a defined target audience, SEO can help you attract anyone who is interested in your product or service at any given point in time, no matter what stage of the buying cycle they're in. This not only attracts potential customers who are interested in doing business with you, but it forges potential long-lasting client relationships while strengthening your marketing efforts.
5. Don't Sleep On Local SEO
Local search is dominating the scene as mobile traffic surges, becoming a fundamental part of small and medium-sized businesses' growth and success. These days, 60% of all searches are performed on a mobile device, and nearly half of those searches have local intent. For instance, local searches such as "restaurants near me" are becoming more common. Meanwhile, 80% of local searches on mobile devices lead to conversions. Local SEO aims at optimizing your digital presence for a specific municipality or vicinity, making it easier for people to locate you quickly and seamlessly. Local optimizations put you on the map so to speak and serve as a reputable medium for broadcasting your brand's messaging on a city or state level, while placing a consumer one step closer to a professional transaction. SEO experts optimize the website and content for small businesses, incorporating local citations, backlinks, and regional listings relevant to the location and sector the small business belongs to.
Additionally, other local SEO best practices include using local keywords and claiming directory listings. To promote engagements, SEO pros create pages for your small business (also called doorway pages) on Google My Business local directories and Google Maps, along with optimizing your social media profiles. Another strategy is putting a strong emphasis on user reviews on Google, Yelp, Angie's List, and Home Advisor (along with others), depending on the industry.
6. SEO Pricing Is Offered At A Low Cost & As A Long-Term Strategy 
We all know to run a business, things cost money, with professional SEO services, instead of checking it off as another operational cost, it's a genuine business investment that frankly won't break the bank. In the grand scheme of things, SEO cost and integration are relatively inexpensive with an immense payoff in the long term. Search engines creep into your site around the clock, promoting useful content and helping you grow your prospective customer base organically. Allocate some time to compare your content to those of higher-ranking sites within your niche, this can give you extra incentive and tips in making your copy better than theirs.
Exemplary SEO implementation can last for years, with the proper amount of attention and investment. SEO can (and hopefully does) have a noticeable impact within the first year of action being taken. The more time, dedication, and budget that's committed to SEO, the longer your website will stand the test of time and be a prominent contender in its respective market.
7. SEO Gives You A Competitive Edge
So, what is SEO in digital marketing you may ask? SEO works as a built-in public relations representative and a top-tier competitor, strengthening long-term equity for your brand. While your competitors invest in SEO marketing by using professional web development and design agencies, so should you. Whether it's the business owner themselves, an SEO company, or a marketing agency, those who invest heavily in SEO and use it as an integral part of their marketing strategy are ahead of the game and shine in conversions, outranking the competition in search engine results and market share. This shouldn't be a surprise since the results on the first page of a Google search earn over 90% of traffic. People often search for news and related items, meaning that a glowing ranking and a favorable placement will help your brand be seen. You cannot afford to have your product dip behind; identify who your competitors are, analyze their strengths and weaknesses, and cultivate and manage your reputation so you can gain that top spot. Integrate your site with the best content possible and ensure that it has a good user experience that's mobile-friendly with fast loading times; these strategies will create a bonafide combo that'll boost brand reach and awareness.
8. SEO Is Quantity And Quality
SEO is quantifiable and data never lies. Proper tracking and analytics can assist business owners in indicating how specific actions are supposed to affect performance and growth, any good SEO will aim at upholding those improvements. Brands constantly study digital performance and want to know where they were, where they currently stand, and where they're headed in the virtual market. With SEO, you can track changes in rankings, website traffic, and conversions. For instance, Google Analytics offers a comprehensive suite of information, giving users the option of monitoring data on a granular level. One of Google Analytics' notable features is viewing every website user's buying journey, which tracks the pages they engaged with, the keywords they used to search, and if they completed specific actions. You can use the insights to adjust and fortify your SEO strategy.
Original content and SEO also partner together in conceptualizing helpful content to site visitors in the form of text, images, and videos. Furthermore, SEO is an instrumental tool in supporting your content marketing and digital marketing needs, it keeps you on your toes in making sure that your content is of substance and optimized for keywords you want to be in the ballpark for. Search engines feed off of freshness, so business owners are encouraged to update their content regularly.
9. SEO Unearths New Opportunities
Offering high-quality SEO entails consistent learning, discovery, and leveraging new opportunities for brands not just to be noticed but to thrive. SEO teams should make your SEO succeed by being submersed in your brand's mission, identity, and essence, they should employ high-quality, unique SEO strategies that truly help capture the passion and embodiment of your brand. Intricately understanding a brand can help shine a light on more opportunities needed for it to thrive, this concept can also be applied to SEO. For instance, new openings for ecommerce SEO come in various shapes and forms, from producing content, digital, and social opportunities, to aiding in sales, product, and customer service strategies.
An optimized site with quality content that aligns with the user's intent builds trust and brings incoming traffic. Searchers who engage with the website longer tend to connect with the brand more, potentially leading to conversions, customer advocacy, and long-term partnerships and revenue. Meanwhile, technical SEO ensures that your website meets the technical requirements of current search engines, ultimately improving organic rankings on the backend.
10. SEO Is Here To Stay
No matter what, we should never underestimate the importance of SEO in digital marketing. In this modern digital age, consumers will always want the convenience and ease of access of having products and services online, and brands will always search for ways to achieve that without straining their wallets. SEO strategy is continuously evolving and changing, with new avenues and entry points opening up through voice systems, apps, wearables, and other outlets. New searches will always arise, so it's best to be prepared for them.
If you need optimal SEO or web design that's advantageous in elevating your brand, please check out our services or get in contact with us at www.faithwebdesigners.com.